I am just really into art right now. I went through a period the last couple of years where I was all into furniture. We had just bought our house and I was trying to get it to a point where I felt each room was ours.
We just put new dark brown bamboo floors in our entire upstairs and painted the hallway a pale lavender. Before, I had the hallways completely covered with art work and now I'm slowly putting work back up. This time I'm being more selective in what I'm choosing to put up. I think I'll put up some empty frames to fill the space in the meantime.
I'd love to hang up this beautiful mixed media piece by Shanna Teague. I love the calming colors and the way the pages break up the space of the bridge so gracefully.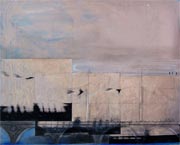 All day I've been admiring this beautifully unique necklace by Molly Proctor. I just love her simplistic words on those little antique spoons and the amber color of her photographs of them. Why can't I be rich?
Last night, my dog got stuck in my neighbor's yard. I don't know how she got over there (we're completely fenced in as are they). The only thing I can possibly think of is that she saw a squirrel that gave her enough motivation to jump the fence. May be I should consider these treats from The Chocolate Lab as an alternative.....